Zarif joins ex-Iraqi chief's funeral in Kurdistan
October 6, 2017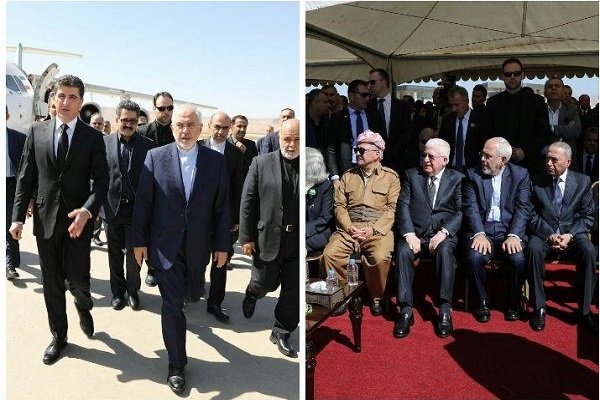 TEHRAN – Iran's Foreign Minister Mohammad Javad Zarif attended the funeral of Iraq's former president Jalal Talabani in Sulaymaniyah in the Kurdistan Region on Friday.
As the highest-ranking foreign dignitary to attend the procession, Mr. Zarif laid a wreath over Talabani's coffin.
Thousands of mourners gathered in Sulaymaniyah to pay their respect to the former Iraqi president and leader of the Patriotic Union of Kurdistan. President Fuad Masum was also present.
Talebani was a native of the Kurdistan region and the first non-Arab president of Iraq, in office from 2005 to 2014. He passed away on Tuesday in Germany at the age of 85.
On the sidelines of the funeral ceremony, Zarif said Iran is a friend of always to the people of Iraq, including the Kurds.
"I hope everyone in Kurdistan returns to the path of Mam Jalal, who was the symbol of unity and territorial integrity for Iraq," the Iranian top diplomat stated.
Later the day Zarif left Sulaymaniyah for Najaf to meet with local authorities.
SP/