Rouhani's travails to put a cabinet together
August 6, 2017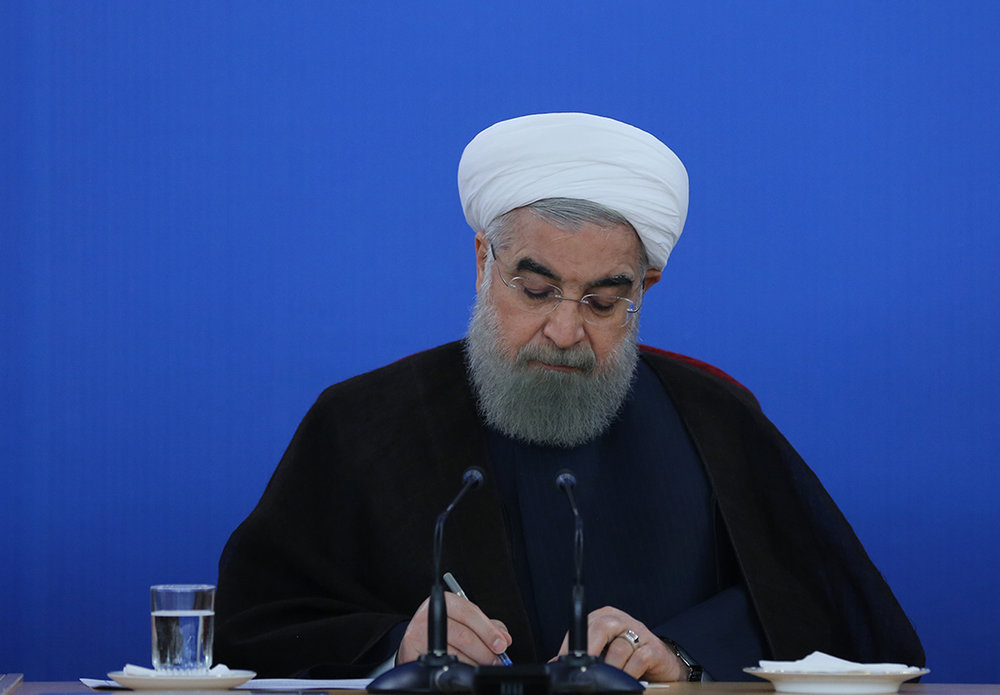 TEHRAN – Iran's recently sworn-in President Hassan Rouhani plans to announce his cabinet on Tuesday, a senior parliamentarian said on Sunday.
"The president will introduce his proposed cabinet on Tuesday," Behrouz Ne'mati, spokesman for the parliament presiding board, quoted Vice President Es'hagh Jahangiri as having told him on the sidelines of the swearing-in ceremony on Saturday.
Other top government posts are expected to be announced later.
Statutorily, Rouhani has to announce his 18 ministerial picks in a fortnight from inauguration day. Parliamentary commissions have one week to debate each of the 18 nominees, having the right to summon them for possible disambiguation.
Rouhani will be allowed to defend his reportedly all-male roster of ministers as well as his programs in two hours and a half followed by comments by opponents and proponents, each five.
In 2013, Rouhani's nominees for science, education, and sports ministries were turned down by the mainly principlist parliament.
This is unlikely to be the case this time with a majority of representatives leaning toward Rouhani. Constitutionally enshrined, the president has the authority to appoint acting ministers for a maximum of 90 days until vote of confidence is won for unfilled seats.
The announcement of ministerial shortlist will end weeks of speculation over the cabinet makeup, which will have the task of upgrading relations with the global community including neighboring countries, safeguarding the international nuclear deal with world powers, and shoring up economy.
Rouhani was particularly under pressure by women's advocacy groups to add female leaders to his male-exclusive minister list.
While officials close to the president have not explicitly explained the absence of women in Rouhani's cabinet, Interior Minister Abdolreza Rahmani Fazli said in an interview with ILNA that Rouhani's staff had not been able to come up with a list of qualified women.
Last week, a group of women gathered in Tehran to protest the absence of women ministers, capping a weeklong social media campaign to raise awareness.
Also, Rouhani, who pledged to continue his policy of moderation during the second term, has been cautioned against including nominees having ties to opposition leaders held under house arrest since 2009.
"Rouhani should keep in mind that Fitnah (sedition) is the establishment's redline," said Mohammad Nabi Habibi, secretary general of the Islamic Coalition Party.
"He shouldn't give a share to seducers in his cabinet," he added, a reference to those involved directly or indirectly in the 2009 protests. In addition, reformist figures, who assert to have played a key role in Rouhani's victory, have been fighting to add reformist leaders to Rouhani's list.
Rasoul Montajebnia, a reformist and deputy chairman of the National Trust Party, has warned that absence of reformist figures in the cabinet will have consequences.
"Rouhani should come to us himself as it was the reformist movement that made Rouhani president in in 2013 and 2017." "It's Rouhani's duty to pay special attention to reformists."
In similar comments, Elaheh Koulaei, a university professor and a senior member of the Supreme Reformist Council for Policy-making, said: "Reformists were strongly present (in the elections) and should receive an appropriate response in return."
Only three of the ministers used to be in the reformist government of Mohammad Khatami survived into Rouhani's first cabinet.
In what seemed to be an implicit reply to cabinet rumors, Rouhani rejected any partisanship in naming ministerial picks, maintaining: "The approach and thinking that 24 million Iranians voted for should dominate the government."
Nearly 24 million Iranians voted to keep Rouhani as president in the hard-fought May 19 election.
A cabinet shake-up, however, is unavoidable. While the Rouhani administration could close the nuclear dossier, smoldering for more than a decade, rein in soaring inflation rates, and post unprecedented economic growth, it is fighting to reduce the dole queue.
As well as economic concerns, the country's relations with Arab states are at a low point. Tehran also frets about the fate of the nuclear deal under the unpredictable Trump administration.
Mohammad Nahavandian, the outgoing presidential chief of staff, predicted that 50 percent of the cabinet would be replaced.
Unconfirmed lists of appointees for top posts in the new administration show ministries of communication, education, economy, justice, defense, energy, science, and industry are to be led by new faces.
PA/PA