Beat the heat: Tehran adjacent to myriad natural destinations
June 1, 2017
TEHRAN – Though Tehran inspires many travelers with its art, history and majesty, the summer is the right time for its residents who have been fancying to escape from its scorching temperature to a wealth of cool tourist spots dotted nearby the bustling metropolis.
With gorgeous natural landscapes including lush gardens, villages, meandering rives, snow-capped mountains, Tehran environs seems to offer it all. There are plenty of reasons to beat the heat in search of cooler weather and a change of scenery for a population of about 12 million as the city becomes fairly hot in summertime. People could take the advantage of a three-month school break as well.
Tehran province boasts variety of traveler attractions and natural sceneries in all seasons, which can make memorable days for families. On its northeast lies townships and villages of Oushan, Fasham, Damavand, Shekarab, Ahar, Zaigoun, Maigoun, and Garmabdareh to name a few. Most of which are teeming with natural beauties, fresh air, abundant fruit gardens, recreational centers, and restaurants.
People walk along Bam-e Tehran, a mountainous district that leads to Tochal resort in a northwest Tehran.
The Shahandasht waterfall is another eastward destination located nearby a village of the same name off the Haraz road that connects Tehran to the Caspian Sea in the north. The 50-meter cascade is also adjacent to Malek Bahman stronghold that dates back to the Sassanid era (224 CE to 651).
In northeastern Tehran is also situated Tangeh Vashi, a popular mountainous resort that bears a bas-relief of Fath Ali Shah, a Qajar king. People mainly opt for walking through a cold river that dominates the area.
Travelers walk through a shallow river at Tangeh Vashi, a popular mountainous tourist resort in north-east Tehran province. A Qajar-era bas-relief is seen in the picture as well.
The riverside Kan and Sulqan rural districts along with colorful valleys across the Chalous road westwards host thousands of visitors during the summertime with hectic rows of coffee shops and restaurants.
Darband and Darakeh villages on the north are Tehran's most pleasant urban escapes. Darakeh, at 1700m elevation, boasts a cluster of riverside restaurants. Paths going up through the village and connect with hiking trails across and up the mountainside. It's possible to hike from there to Tochal cable car and beyond.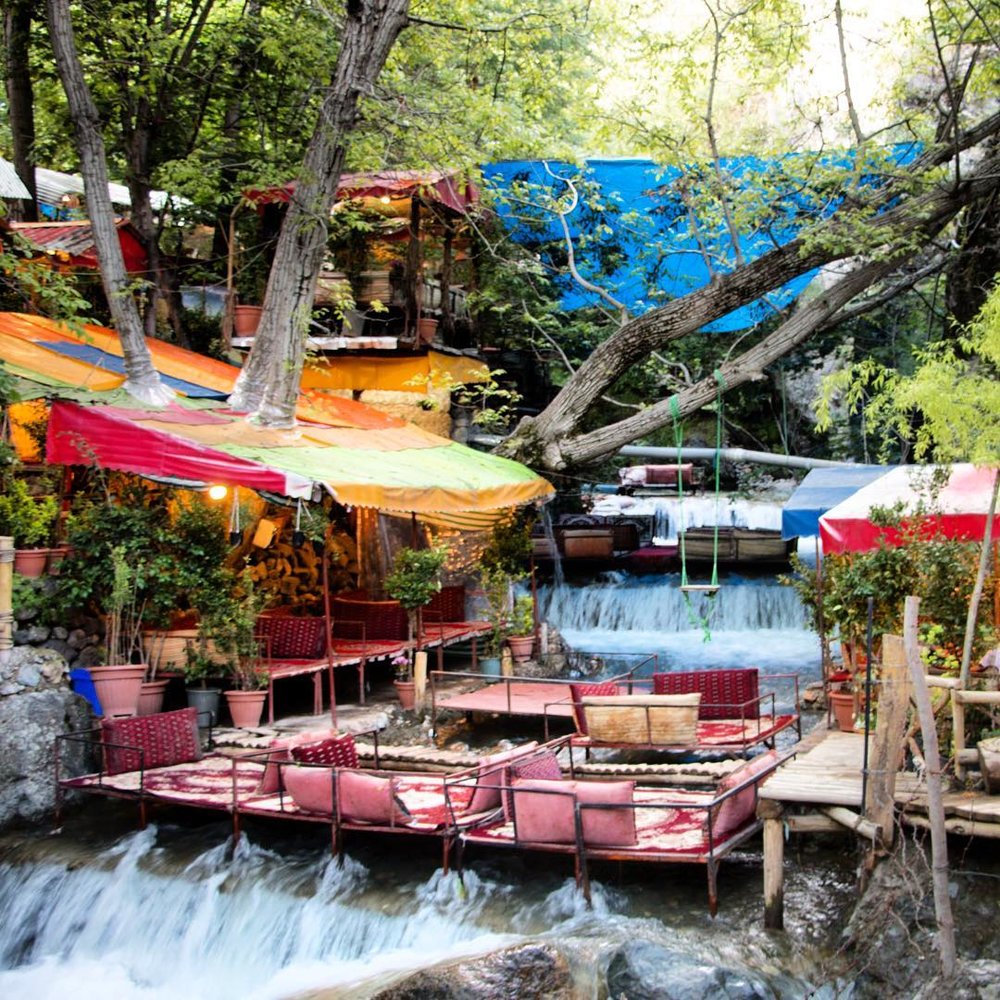 A riverside restaurant in Darband village, northern Tehran
Attached to Tajrish Sq., northern Tehran, a path winding up a narrow rocky valley with water cascading down the slope ushers visitors to Darband. The trail ascend into the hills past a picturesque succession of teahouses, restaurants and fruit-conserve stalls: it's one of the most relaxing places in Tehran.
In recent years, some tourist agencies in Tehran attempt to organize tours to the aforementioned neighboring resorts that adds to their fame.
Summers have been always synonymous with adventure and relaxation and Tehran with its ample indoor and outdoor attractions will not disappoint.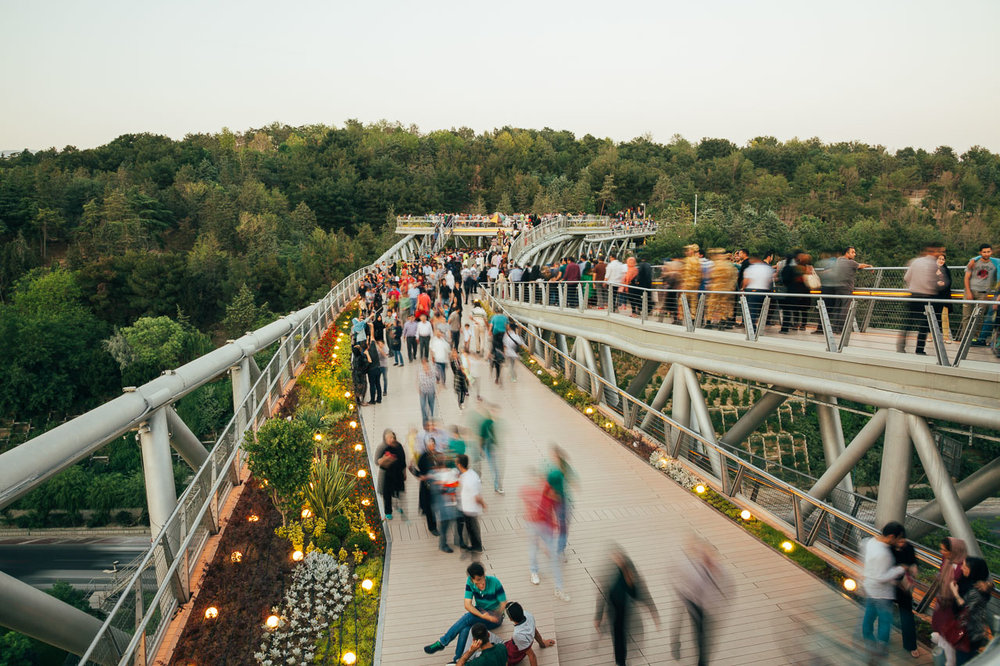 Citizens cross the picturesque Pol-e Tabiyat (Nature Bridge) that links Ab-o-Atash Park to Taleghani Park in Tehran.
For those who can appreciate dry heat during summer's almost 14 hours of sunlight, Tehran offers unparalleled parks. An offer is to walk on the award-winning Nature Bridge (Pol-e Tabiyat) that connects Ab-o-Atash Park to Taleghani Park. People may savor the Tehran skyline while walking uphill on Bam-e Tehran, a northwestern district.
AFM/MG