By Zahra Sadat Khezry
Setboun: Islamic revolution made me professional photojournalist
March 4, 2017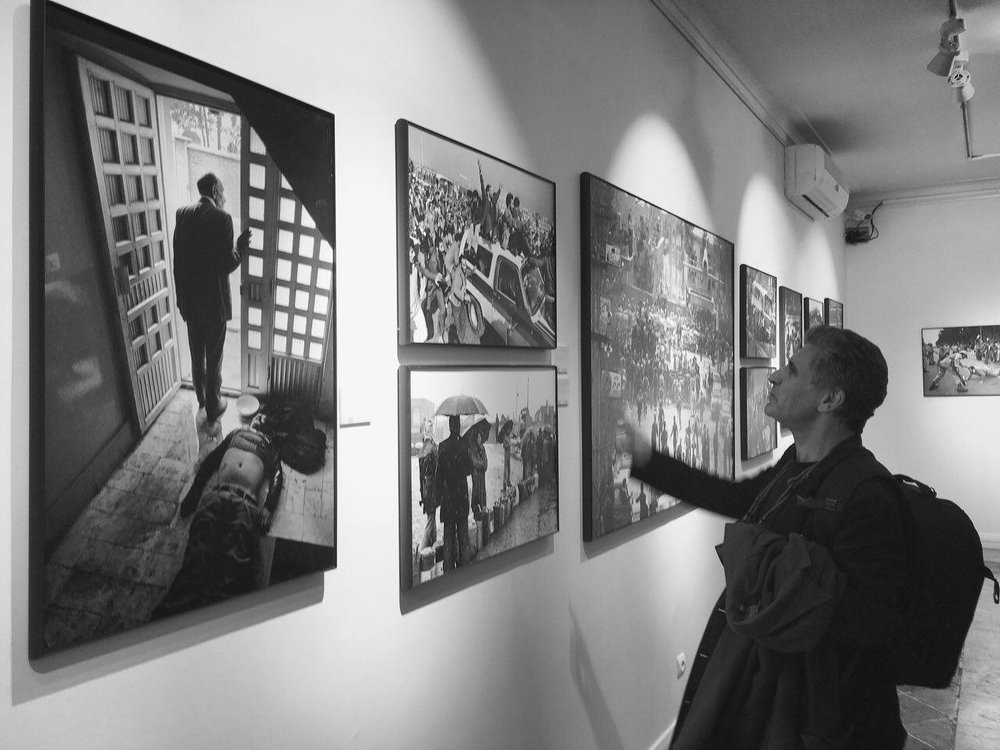 TEHRAN - Michel Setboun is one of the most renowned photojournalists of the 1979 Islamic Revolution, shooting over 45,000 photos. 
In collaboration with the Iranian Association of Revolution and Sacred Defense Photographers, Setboun's book entitled "The Days of the Revolution" has recently been published.
The Tehran Times conducted an interview with Setboun as he visited Iran last month to capture the scenes marking the 38th anniversary of the Islamic Revolution.
Below is the full text of the interview:
Q: Can you tell us briefly about yourself and your background?
A: I got a diploma in architecture in 1977, but since I was more interested in travelling and photojournalism I decided to try to change my future.
The Iranian revolution gave me the opportunity to become a real professional photojournalist. And that was one of my best memories.
Q: When and how did you know Imam Khomeini?
A: I was in Iran since the beginning of 1978, covering the uprising (against the Shah regime). Imam Khomeini was the magical name during the demonstrations, but we had no image of him, only on billboards, paintings... When Imam Khomeini arrived in Paris, I was told by Bani Sadr ( the first Iranian President of the Islamic Republic after the 1979 revolution) to come to Paris [when I was in Iran] and I did it. I was one of the first people to see him in Neauphles-le-chateau.
The first prayer in the garden, then his speech under the apple tree. That was very impressing to see him for the first time.
We had a brief talk; I was introduced by Bani Sadr who told him I was covering the revolution in Iran. After a few days I met him again and he (Imam) told me, like a grandfather, that my duty was to be in Iran, covering the revolution which he said was more important than he himself.
I decided to fly back to Iran to continue my work in the streets.
Q: What attracted you to the Imam and his revolution?
A: For French people, revolution is a special word. For me Iran was a kind of rehearsal of the events in France in 1968. The people were fighting for the end of dictatorship. That was also a social fight.
Q: Is there any particular reason that you follow the Imam and his revolution for photography?
A: When you are in such a big story, you can't miss that, and Iranian people and traditions are very photogenic... the black chador, whatever you think about it is very photogenic especially in the wind.
Q: What is your assessment of the people' emotion when the Imam returned home in February 1979? Did it excite you to shooting differently?
A: Again like during the manifestation, everybody helped me. Since I have spent some months with the people of Tehran, I could feel their emotion. If I can say, it was like God coming back on Earth, or a prophet landing on Iran's soil.
Q: What is your feeling of the current atmosphere in comparison to the revolution days?
A: After 38 years you can imagine so many things have changed. It's difficult to compare today with the past. The majority of the Iranian population are too young to know the revolution. They have just heard about the revolution from their parents or seen the photos of the revolution.
Q: Let us speak about your book which is a collection of the famous photos of the revolution. What was the goal of such a work?
A: I had that project in my mind since several years ago; I could see on my different websites that I had a minimum of 10,000 connections every day from Iran. I understood how important this memory was for the Iranian people. Some Iranians who had been captured by camera requested their photos and this motivated me to do that work. I had put photos on my website for free because I wanted to share that memory. If the pictures are mine, this history belong to the Iranian people. To share that online was also a way to give back to Iran, what Iranian people gave to me.
Q: How was your book received by the French and Iranian people?
A: You can imagine that in Iran the book was very welcomed. I was very honored by this publication, and I want to thank the publisher, the association of Revolution and Sacred Defense Photographers, etc. for their cooperation.
For the moment it's impossible to find the book in France, but my regular publisher, the editions de la Martinière, is very excited to publish the book. I think it will be a little bit different; of course I will have more information about that in the next few weeks.
Q: What is your goal in photography? What do you hope to achieve?
A: Happiness. I just love to record life, light, color, beauty, human beings. My goal is to be able to continue to do what I love until the end of my life.
Q: Do you have any advice for an aspiring photographer?
A: Very difficult to answer. The world of photography has changed; it's not what it used to be; so many magazines have disappeared; now the life is "online"... it's difficult to give any advice. The only thing I could say is that you have to be confident of yourself and what you do. You have to work hard, but if you enjoy it it's never a pain.
Q: Anything else you'd like to say to Iranians?
A: Thanks for the chance Iranians people gave to me; thanks for the recognition of my work, and I am always very happy when I am considered as an Iranian even if I don't speak Farsi. I am also very pleased when I am told I am looking like a famous Iranian actor.