Syrian Army Scores More Victories against Terrorists in Western Aleppo
February 21, 2017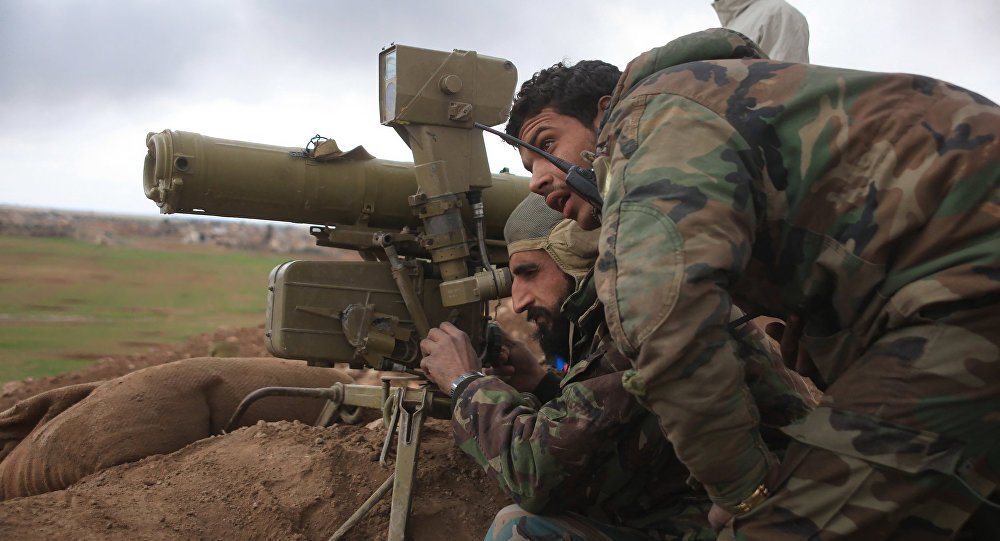 TEHRAN - Syrian Army troops started a fresh offensive against terrorist groups in the Western countryside of Aleppo and managed to win control over a key bridge, cutting off militants' line of supply.
The army soldiers carried out a retaliatory offensive from Dhahiyah al-Assad neighborhood towards al-Sowrah defense station in reaction to terrorist groups' mortar shelling of residential areas in the neighborhoods of Jam'iyat al-Zahra and New Aleppo in the Western part of Aleppo city.
The army men could significantly advance against terrorists and seized control over the strategic al-Raqqa bridge after hours of clashes.
A military source said that al-Raqqa bridge was one of the main supplying lines of the terrorists deployed in the Western countryside of Aleppo city.
The source added that the army soldiers have been engaged in heavy fighting with terrorists and are carrying out cleansing operation in the region to hunt the rest of the terrorists after establishing full security to al-Raqqa bridge.
In relevant military developments but in Eastern Aleppo on Sunday, the army troops continued their anti-ISIL attacks and managed to capture several strategic hills near the key town of Deir Hafer.
The army soldiers engaged in fierce clashes with ISIL and entered the village of Humeimeh al-Kabireh, taking control of a large part of it after seizing the Humeimeh al-Kabireh hill.
The Russian fighter jets carried out several combat flights over ISIL's positions simultaneous with the army's advances in the region.
A military source said that the army troops could take control of all ISIL road to Deir Hafer and to the villages of Ein al-Hanash and al-Humeimiyeh.
The army men also prevailed over ISIL's defense lines in the village of Rasm al-Harmal and won control of a part of the village after hours of heavy fighting with terrorists.
(source: farsnews)